Are you following a diet and exercise plan that seems like it's taking you nowhere? Are you looking for the ultimate fat burning experience that will also deliver long-lasting, clean and good energy? Then, let me introduce you to the world of fat burning supplements!
There are many ways that you can maximise your fat-burning experience. However, if you have tried it all and nothing is working, it is time to take your journey to a new path. You will achieve anything you put your mind to by just adding a fat burning supplement to your stack. Let me explain here…
The Best Fat Burning Combination
When it comes to the best combination of fat incineration, you will need the proper diet and exercise plan to get you started. Then, by incorporating supplements into your regime, your fat burning will be taken to another level.
Fat burning supplements are a great way to get you started. There are many supplements that will help push you through your training session, but if you are genuinely looking for something that will give you an extra buzz Genetix Nutrition has the perfect fat burning supplement for you: Hydroxy Lean.
This fat burning supplement is specially crafted with the best ingredients in the market to help you achieve your fitness and body goals. Let me tell you what is even better! Genetix Nutrition has just dropped a new flavour: Red Raspberry.
That's right, the masterminds at Genetix Nutrition have created this new flavour so you can enjoy fat burning in a tasty, tarty and delicious way just like fresh raspberries! Don't just take my word for it! Click here for more taste feedback from Jono Meek and Bec Correria.
What's in the Hydroxy Lean that makes it different?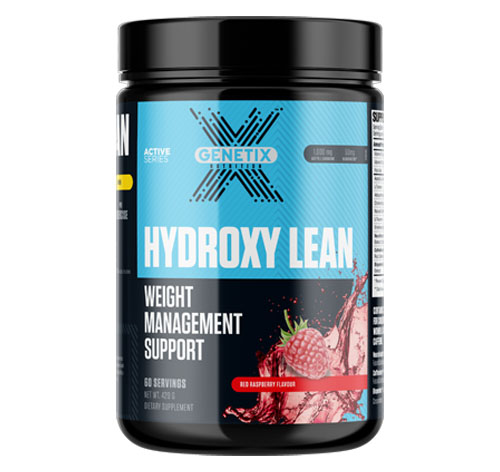 The right combination of ingredients will make it or break it a supplement. You might have a supplement that tastes amazing, but is it doing what's meant to do? What makes Hydroxy Lean the perfect supplement for you?
Hydroxy Lean has a combination of ingredients specifically designed to take your fitness level to a new height. With three patented ingredients, you will feel the burn!
The added Coffeeberry delivers natural and clean energy without the crash and jittery sensations. NeuroFactor supports memory, learning capabilities and cognitive function. Bioperine helps with the absorption and bioavailability of ingredients so that you can experience the ultimate burn!
Then you will find other clinically researched ingredients designed to help manage your metabolic rate and calorie processing. These include Acetyl L-Carnitine, L-tyrosine, 5-hydroxytryptophan and Achyranthes Aspera.
Each ingredient has been precisely picked to give you the perfect formula when it comes to burning that stubborn fat.
How Can You Avoid the Crash?
When you take a high stimulant supplement, you may have heard of or even felt the 'crash'. Is it possible to take a fat burner and avoid the dreadful crash after it? The simple answer is YES! When you are choosing the right supplement for you, make sure you look carefully into the ingredients to avoid feeling defeated after you take a supplement.
By having the right ingredients and the perfect combination of it, you will achieve that steady energy level needed to keep kicking all day long. Hydroxy Lean by Genetix combines natural sources of caffeine to curb the energy crash.
What Else Can You Do To Burn The Extra Bacon?
There are other ways you can add to your routine to help you achieve your goals. One of them is eating the right amount of protein, so when you are burning fat, you are not losing muscle mass. When you consume the right amount of protein, you will keep the lean muscle mass while your body burns fat as a source of energy.
Another one is drinking plenty of water! Your body can dehydrate when you are sweating more, so keep your body hydrated. Remember when you lose water, your body's metabolism slows down, and a slow metabolism is no good for fat loss.
One last one is getting enough sleep/rest, so your body recovers from all the hard work you are putting in. Your body and brain need sleep/rest to help reset your body, so you have plenty of energy to take on the day. And remember that when we are tired, we tend to make poor food choices.
So, are you ready for the ultimate fat burning experience?
---
---