You put a lot of time into eating the right foods and exercising, but you might be forgetting a crucial part of this cycle, your GUT! We know that having a healthy gut means a healthier you from the inside out. It's all about having the right balance in the gut, which will affect nutrient utilisation efficiency and overall health. With so many products available for gut health, how do you choose the one that is going to give you the most benefits?
We spoke to Jenny Critchley, a naturopath and nutritionist at Be Vital, who specialises in gut health and the health implications on it. She has been trialling Gut Performance with some of her patients, and this is what she has found out.
Jenny tested Gut Performance by Every Body Every Day with her clients in a 30 day and 5 day trial period. The trial was taken with patients that had gut issues with symptoms such as constipation, bloating, flatulence, abdominal pain and diarrhea. She found that her patients responded really well to using Gut Performance for the trial period.
"After only 5 days I've had some people with constipation, really hard to shift, actually start to have more regular bowel motions that's really demonstrating the impact of the prebiotic fibres within the Gut Performance."
Gut Performance by Every Body Every Day is 100% natural, and it has a combination of Sugarcane Stem, Beetroot and Red Sorghum. The high concentration of prebiotics will help to bring your gut microbiome back to a healthy balance. Your gut health can potentially affect mood, energy levels, metabolic function, as well as how you feel everyday.
Jenny explains why prebiotics is important to our gut health. "If we're wanting to affect lasting change within the microbiome, that balance the bacteria and gut flora, prebiotics are definitely the way to go." Gut Performance has high soluble and insoluble fibres, macronutrients(polyphenols), which are essential for a healthy gut.
"Both soluble and insoluble fibres are actually going to be able to help to regulate those bowel motions, and they are going to be able to feed the bacteria and the bacteria that's already present."
There are many benefits to include Gut Performance to your daily diet. When your gut is healthy and balanced, you will:
Improve gut flora
Decreased bloating and gas production
Reduced gut inflammation
Improved blood glucose control
Improved athletic performance
Balance good and bad bacteria in the gut
"Within a few days, the late-night cravings stopped, and they've actually been able to stop that night snacking, which is obviously very detrimental for people wanting to lose weight. So that's being really exciting after such a short period that you're actually able to have demonstrable results."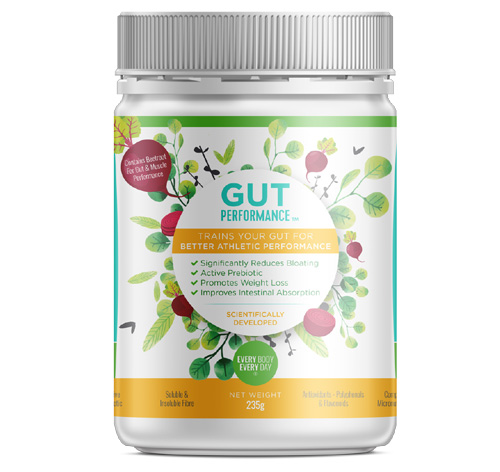 Adding Gut Performance to your diet will significantly improve overall health. Control your gut health so you can perform to your optimum best each and every day by "Even after 5 days, that's actually starting to affect positive change within that gut flora and microbiome."
You can watch the full interview with Jenny Critchley HERE