Fem21 is a Naturopathically developed, herbal based formula specific for women's health. It is suitable for most women, from teenagers through to post-menopause. The main action of Fem21 is to support hormonal balance. However the holistic all in one formula also works on liver detoxification, gut health, adrenal support, thyroid balancing and contains alkalising greens.
It may be useful for conditions such as:
Premenstrual syndrome (PMS)
Mood and stress management
Polycystic ovarian syndrome (PCOS)
Endometriosis
Oestrogen dominance
Low progesterone
Menopausal symptoms
Hormonal acne
Infertility
Irregular menstrual cycles
Painful periods
Gut symptoms including bloating, constipation, diarrhoea, and IBS.
Headaches
Fatigue
The key parts to our endocrine system which are required for healthy hormones are ovaries, liver, gut, thyroid and adrenal glands. Fem21 works beautifully well to balance hormones by holistically supporting each of these body systems.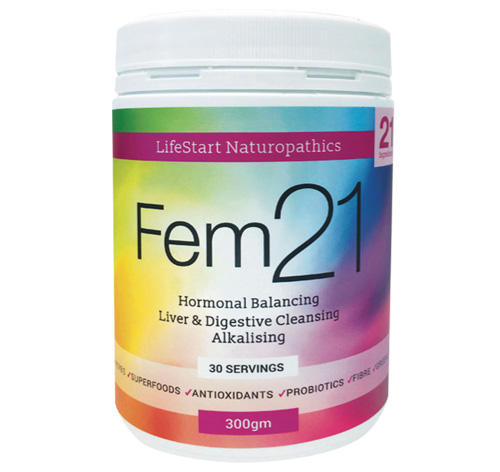 The liver is one of the most important organs for hormonal health as it is the main metaboliser of oestrogen. Ensuring that the liver is functioning optimally ensures that a healthy level of oestrogen is maintained. Gut health is also essential for hormonal health as hormones are also metabolised by the gut. Ingredients in Fem21- fibre, prebiotics and probiotics all help to support a healthy gut. The thyroid gland controls metabolic rate and also communicates with the ovaries. Supporting the thyroid with herbal medicine can be beneficial for not only metabolism, but for all aspects of health.
It is recommended when you start fem21 to use ½-1 scoop per day. You may increase the dose to 2 scoops per day during peak hormonal activity such as premenstrually or mid cycle around ovulation.
It is very common in the first 3 months of working on hormone balance for your cycles & symptoms to change. This shift may involve symptoms of detoxification, changes in cycle length or the quality of your periods. This is normal and beneficial as your body & hormones are balancing and clearing. Know this phase will pass and on the other side of it you'll be looking, feeling and functioning like a new woman.