Are you looking for a new plant protein? Or perhaps never had one before and wondering how to know the difference between so many options out there. I'll be your guide to explore some of finest; in my time I've assisted many health enthusiasts like you choose the right protein, and as a self-professed plant protein addict, you can be sure I've tried all of these and more. I've given each of these the tick of approval for taste and texture (note: If you're transitioning from whey protein to plant protein, you may disagree with me in the beginning but stick it out, it'll be more than worth it!). Let's get plant-powered!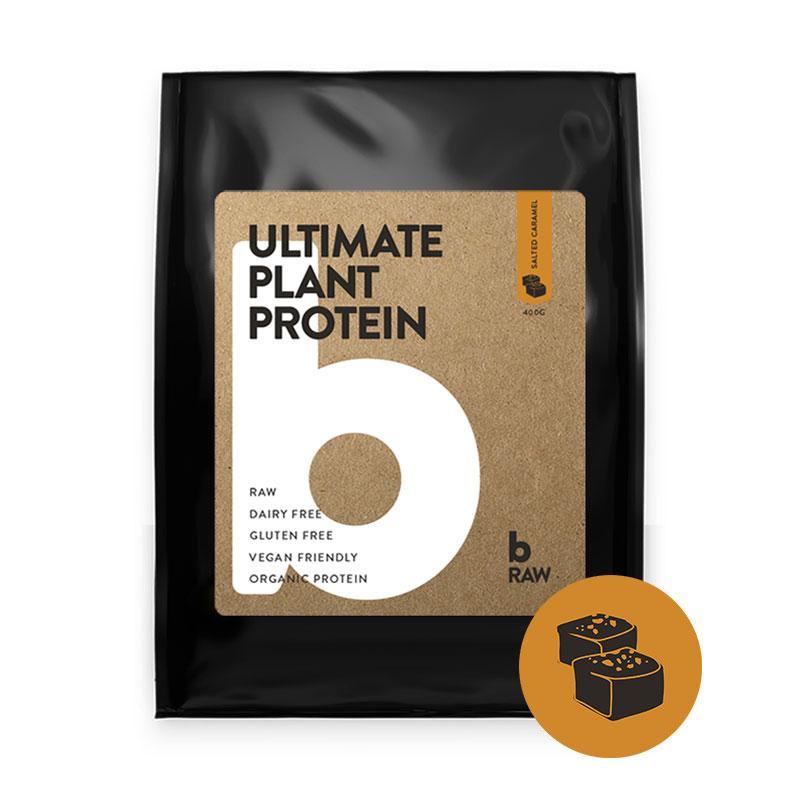 Ultimate Plant Protein by B Raw
Firstly, the best thing about this protein is that it's organic, so a big plus for you if you're health-conscious. With 75% protein, also it's one of the higher protein percentages on the market. Made with golden pea and sprouted brown rice protein, it has a comprehensive amino acid profile that is complemented by an ancient grains blend. The Ultimate Plant Protein takes it up a notch by including digestive enzymes as well as a superfood blend, so you can max out the goodness in each scoop.
Per serve, you're looking at an excellent 30g of protein, with only 2.1g of fat and 0.5g sugar.
Not suitable for those on a grain-free diet.
Salted Caramel is by far the most popular flavour. If you don't want a rich, sweet taste though, it might be a little overpowering – try a lighter touch like vanilla or chocolate (especially if you're looking to mix them with other ingredients!)
Protein Switch by Switch Nutrition
Protein Switch by Switch Nutrition is up there as a fave simply because of the comprehensive organic sprouted protein blend: Find Pea Protein Isolate, Hemp Protein, Pumpkin Protein, Watermelon Protein and Wild Crafted Whole Algae Protein all in one scoop! With a high 5.2g of fibre, this protein is also an excellent option for stable blood sugar and assisting a sense of fullness. With the addition of their 'Protein Amplifier', you'll find this blend easy to digest (no bloating!)
Each 35g scoop contains 24.4g of protein, 2.1g of fat, 6.4g of carbs and 0.5g of sugar.
No real downside, other than if you're looking for just the cheapest protein, this one isn't it. Considering the premium ingredients, however, if you do decide to invest, it is well worth it.
Peanut Butter Toffee is a personal favourite - try it for yourself today!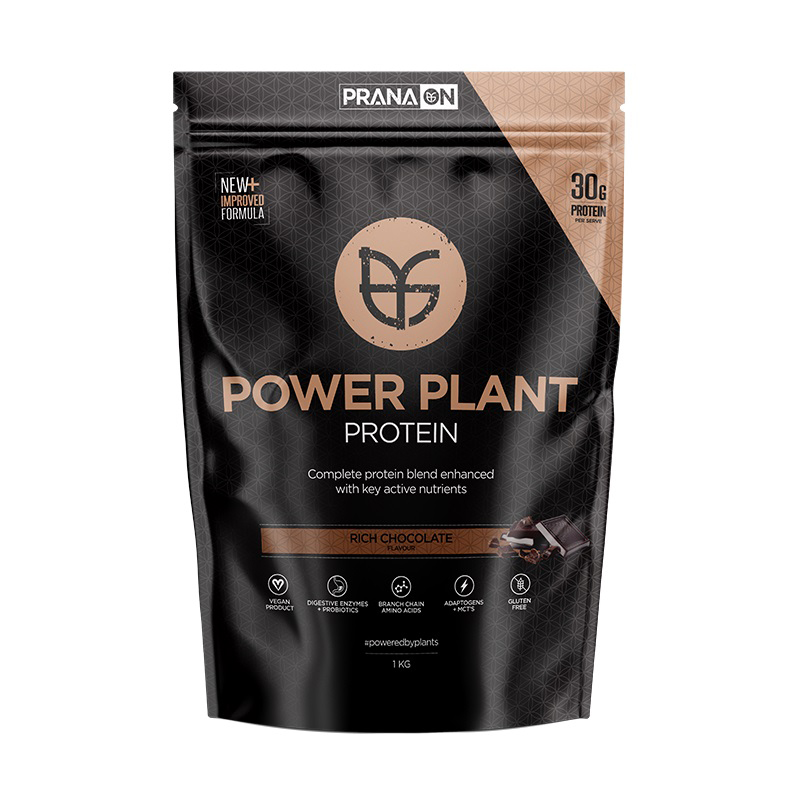 Power Plant Protein by Prana On
Prana On have done an excellent job at revamping their popular range of plant protein. The blend includes Pea, Rice and Fababean - the Fababean being an awesome touch to add a little extra smoothness to the mix. With a gut health blend, MCT oil and Reishi mushroom, these guys know what consumers want!
Per 44g scoop, you're looking at 30.1g protein, 3.4g fat, 5.9g carbohydrates with only 0.9g sugar.
It mixes up cleanly and not gritty at all, the sweeteners aren't overpowering, and it just blends deliciously with unsweetened almond milk (or other plant-based milk).
I'd put my vote down for Himalayan Salted Caramel as the best flavour but I'll move off the caramel taste train - Rich Chocolate and Banana Split are delicious!
Blessed Protein by Clear Vegan
Tummy issues? Blessed might be a great option for you when you want something easier to digest without sacrificing taste. It's a simple, almost no sugar formula that delivers the good without unnecessary add-ins, and 2.5g of dietary fibre per serve, so you can feel fuller for longer! It's also less sweet than some other options, so if you prefer flavour without an overpowering sweetness, this might be for you.
Per 32.4g serve, you're getting 23g of protein, 2.9g of fat and 6.4g of carbohydrates, with only 0.3g of sugar
I wouldn't recommend this for people who are doing a very strict keto diet as it's a little higher carb than some of the others.
Fave flavour = Choc Coconut, because.. Chocolate + Coconut. A match made in plant protein heaven!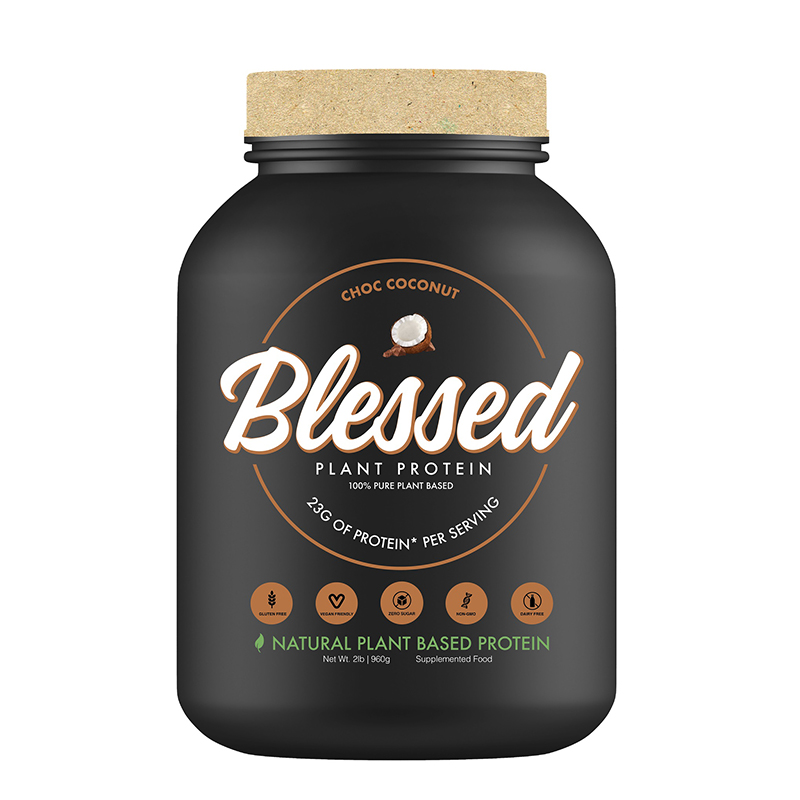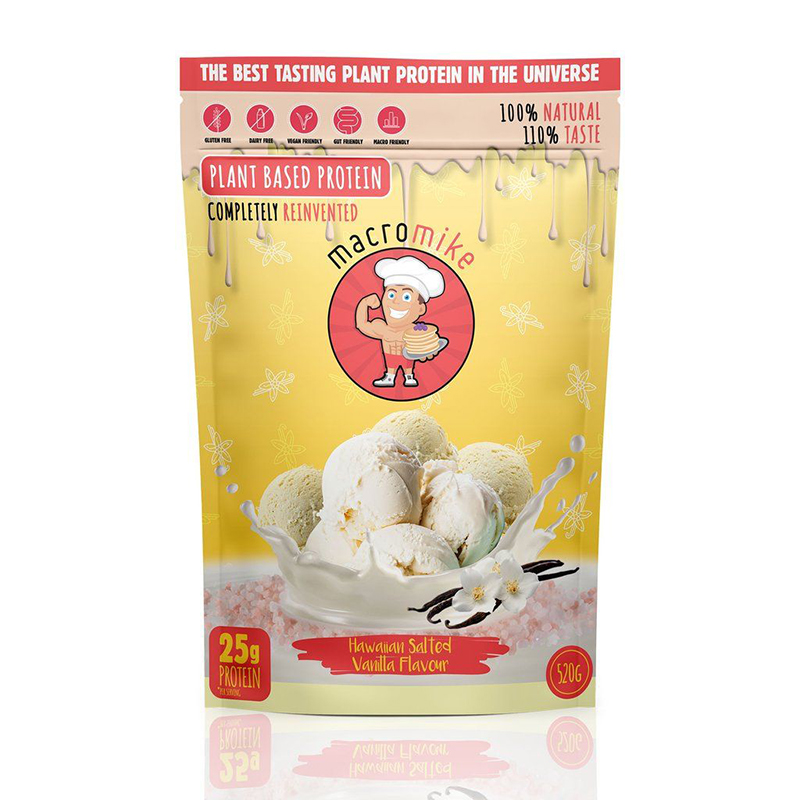 Vegan Protein + by Macro Mike
If you're looking for something that will feel indulgent without breaking the macro bank... Macro Mike's Vegan Protein + is for you! It's super creamy (and addictive), so you'll look forward to your plant-based protein hit every day. Their PB+ Powdered Peanut and Almond butters are also an excellent addition to your sweet treats, or when you're craving nut butter without all the fats.
Per 40g serve, you'll have 25g protein, 3g of fat and 2g carbohydrates with 1g of that being sugar.
Note, this protein is (obviously) not for you if you have a peanut allergy.
Personal favourite flavour is Hawaiian Salted Vanilla, but with the huge amount of options they have, it can be hard to choose!
Final Thoughts:
Health enthusiasts are increasingly opting for the natural, plant-based approach to eating and supplementation. Whether you are vegan or simply want an option that is dairy-free and plant-based, you'll find protein powder options have come a long way in taste and texture. Whether shopping for your first-time plant protein or simply want to mix it up, there's always new vegan protein powders being added to the market! When you find the one you love, you'll be tempted to stick to it, though don't be afraid to experiment with some different brands. By using a plant-pased protein powder, you'll find it easier to meet your protein needs in the most delicious way! In conjunction with a training regime and healthy diet, you'll be in the best place to not only reach your body composition goals, but also maintain them for the long term.